RInfra - About Us - Left Menu
RInfra - About Us - Our Founder
Home - About Us - Our Founder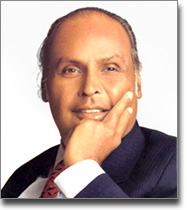 Few men in history have made as dramatic a contribution to their country's economic fortunes as did the founder of Reliance, Shri Dhirubhai H Ambani. Fewer still have left behind a legacy that is more enduring and timeless.
As with all great pioneers, there is more than one unique way of describing the true genius of Shri Dhirubhai H Ambani: the corporate visionary, the unmatched strategist, the proud patriot, the leader of men, the architect of India's capital markets, the champion of shareholder interest. But the role Shri Dhirubhai H Ambani cherished most was perhaps that of India's greatest wealth creator. In one lifetime, he built, starting from the proverbial scratch, India's largest private sector enterprise.
When Shri Dhirubhai H Ambani embarked on his first business venture, he had a seed capital of barely US$ 300 (around Rs 14,000). Over the next three and a half decades, he converted this fledgling enterprise into a Rs 60,000 crore colossus - an achievement which earned Reliance a place on the global Fortune 500 list, the first ever Indian private company to do so.
Shri Dhirubhai H Ambani is widely regarded as the father of India's capital markets. In 1977, when Reliance Textile Industries Limited first went public, the Indian stock market was a place patronised by a small club of elite investors which dabbled in a handful of stocks.
Undaunted, Shri Dhirubhai H Ambani managed to convince a large number of first-time retail investors to participate in the unfolding Reliance story and put their hard-earned money in the Reliance Textile IPO, promising them, in exchange for their trust, substantial return on their investments. It was to be the start of one of great stories of mutual respect and reciprocal gain in the Indian markets.
Under Shri Dhirubhai H Ambani's extraordinary vision and leadership, Reliance scripted one of the greatest growth stories in corporate history anywhere in the world, and went on to become India's largest private sector enterprise.
Through out this amazing journey, Shri Dhirubhai H Ambani always kept the interests of the ordinary shareholder uppermost in mind, in the process making millionaires out of many of the initial investors in the Reliance stock, and creating one of the world's largest shareholder families.
Stamp on Shri Dhirubhai H Ambani.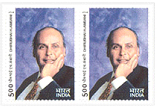 On 28th December 2002, Ministry of Communications,
Government of India released a commemorative
postage stamp on industrialist and founder of the Reliance Group of Industries,
Shri Dhirubhai H Ambani in Mumbai. Issued by the Department of Posts,
the stamp is in the denomination of Rs. 5.